Sibel Edmonds



Shines a Light on The Brussels Bombings
Sibel Edmonds of Newsbud.com joins us to discuss the Brussels attacks. We discuss Belgium's central role as the base of NATO/EU/Gladio headquarters and how the script of this event follows the script of previous false flags almost precisely. We also talk about the public's reaction to these events and how both the mainstream and alternative media are being divided and conquered to keep people from questioning the true roots of these events.
Suicide Bomber Hiding in Ceiling?

Brussels Bombings
NOTE: CCTV footage is disputed. Interesting since the blast seems consistent with the damage seen in Brussels, but it looks like it is probably the same footage as Russia 2011 airport bombing. That in itself is very fishy, but means this video is probably meaningless. Thanks for watching anyway!
Hi, My Name is "Mason"



I Survived 3 False Flag Events!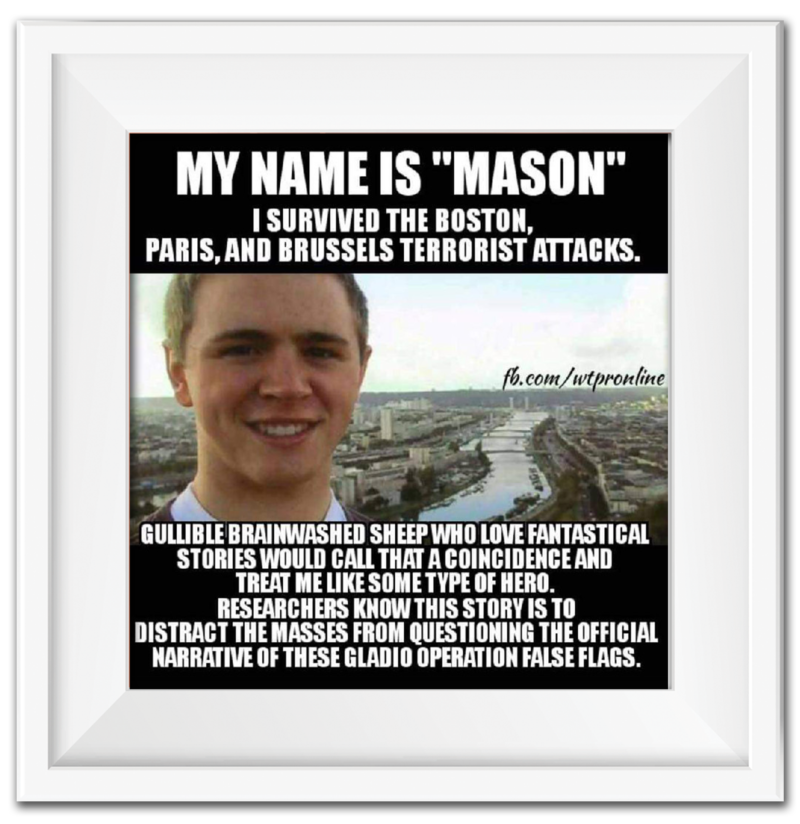 Chilling footage taken seconds after blasts.



Brussels Airport
Brussels Airport : "Chilling footage" taken seconds after blasts.  Man describes flying glass in Brussels airport after explosions.  It is clearly evident that this is just a smoke bomb, nobody died and nobody was hurt.  Another attempt to scare the population of Europe into submission.

Hoax Crisis Actor Emily Eisenman Is A Liar
Brussels Belgium Bombing
Another incredibly cringe worthy attempt at acting.  this Emily Eisenman is a traitor and should be tried for crimes against humanity.

Brussels Baloney:
More Information
More holes in the false flag / hoax from Brussels.  A good look at the images of the victims, and breaking down the official narrative.  The story we are asked to swallow is getting increasingly ridiculous.  Enough already!

ISIS Is Scarier Than You Think.

Brussels Attacks
HowISeeIt YT channel – https://www.youtube.com/channel/UCELP…
The art of David Dees – http://ddees.com/
This video may contain copyrighted material the use of which has not been specifically authorized by the copyright owner. This material is being made available within this transformative or derivative work for the purpose of education, commentary and criticism, is being distributed without profit, and is believed to be "fair use" in accordance with Title 17 U.S.C. Section 107.
Busted as a Drill



Brussels Metro Rescue Image is Fake
This is a follow up video to "Brussels Metro DRILL – NO Bomb, NO Explosion, NO Dead, NO Injured. "

https://www.youtube.com/watch?v=E1xpd…
We expose an image showing 10 Emergency Vehicles with 20 Responders rescuing 1 person at supposedly a Side Exit at the Brussels Train Station. Compare this with the Main Exit where we see less Emergency Vehicles when supposedly 100 were injured and 14 dead. It just doesn't add up. This image is clearly nowhere near a Train Station and is just a drill that could have been filmed anytime. Even if this exit is really there it just doesn't make sense having all those emergency people there as compared to the Main Exit.
Image is shown here: http://www.independent.co.uk/news/wor…
Please Share on FACEBOOK: https://www.facebook.com/Peekay-Truth…
Brussels Joins the Terrible Crisis Actor's Guild

Peekay Truth
If this doesn't sway you into believing that the Brussels Bombing was nothing but a TOTAL GOVERNMENT SPONSORED PSYOP…NOTHING WILL.
Please Share on FACEBOOK: https://www.facebook.com/Peekay-Truth…