FLAT EARTH LIVE | 24/7 ODD T.V. FE LIVE
Watch any time, anywhere on the flat plane
Flat Earth – Incompatible
Flat Earth Consequences
Published on Jun 29, 2017
How many things is the FE incompatible with?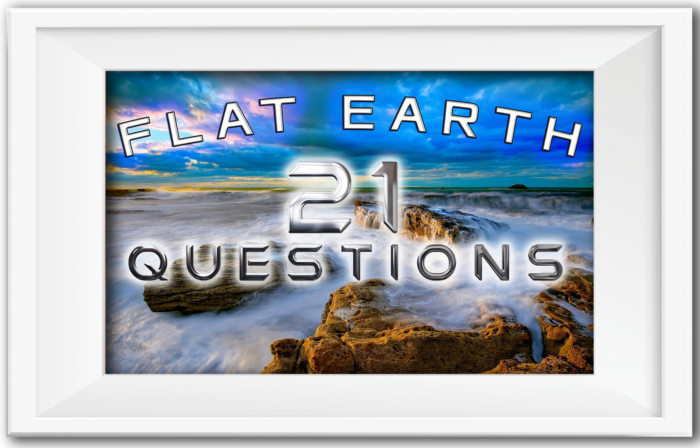 Flat Earth – 21 Questions
O.D.D. T.V.
Do you know about the Solar System?
Please, watch this presentation....
How much do you really know about your home?  Learn what science would have us believe about Earth, the Heliocentric System and the vast distances between heavenly bodies.
Truth is Stranger Than Fiction
T.I.S.T.F.
Still unwilling to take a serious look into the matter of the Flat Earth?
Then this is what I wanna say.
Major shout-out to p-brane for the compilation footage I borrowed for the second part of his video.  His video was hugely impactful to me when first looking into these things.
Conspiracy Channels

Check them out
There are lots of interesting YouTube channels making all kinds of Flat Earth videos.  Many are accused of being dis-info agents.  Don't believe anything but rather make up your own mind.   Here is a list of a few of the top channels.  If you come across any other interesting ones that are not listed please submit them on the contact page.
Indices Terre Plate – Flat Earth Clues
French Voice Over - Parts 1 through 12
The Sun is close and much smaller than reported.
Crepuscular Rays are a Tell-tale sign...
Mainstream science has sought to explain away these sun rays that are extremely damaging to the heliocentric model, as just the result of a visual phenomenon known as linear perspective. The problem is… perspective can't explain these rays. And… I will show, that the very perspective they invoke to try and save the heliocentric model from these damaging crepuscular rays actually indicts the heliocentric model as a fraud.  Perspective has to do with THE OBSERVER. From the observers perspective, objects going away will follow the convergence pattern I showed at 16:40. The higher the object THE STEEPER AND FASTER IT WILL APPEAR TO LOWER – THAT'S A FACT JACK.  The object (like the train going away) @ 16:52 has only ONE movement RELATIVE to the observer – it's moving further away. The other train @ 17:31 high up on a high plane has two VISUAL movements, 1. AWAY, and 2. DOWN. So it's kinda moving PARALLELISH TO THE OBSERVER.
There is no southern pole star. What folk are seeing when they look south is a perspective produced counter rotation. For example: If you are at the north pole, Polaris will be directly overhead and all the stars will be rotating around it – and the stars just above the horizon will do a big circle around you staying parallel to the horizon, right?… I don't know how much you know about perspective, but notice how the clouds will angle down towards YOUR horizon THE FURTHER AWAY FROM YOU THEY ARE. Keep this in mind. The further south you go… Polaris will get lower and lower in the northern sky FROM YOUR PERSPECTIVE. Let's say you go far enough south that Polaris is on your horizon… the surrounding stars that were rotating around you at the north pole would now be rising in the east and setting in the west. And if you look to the south, you will see a counter rotation DUE TO PERPSECTIVE. This is tough to understand, I get that. Think about it for a while… If you want to discuss like a human being, I'm open… If you're going to name call – TAKE A HIKE!
200 Proofs that Earth is not a Spinning Ball
Eric Dubay
200 Flat Earth Proofs in under 2 hours! The largest collection of supposed "spinning ball Earth proofs" I can find from NASA is 10, all of which are debunked in the following video. So here is 20x the amount of proofs your government has ever given you that you are NOT living on a spinning ball planet. Please sit your friends and family down to watch this most important documentary and help share this on all your social media accounts so we can wake humanity up to this greatest deception and mother of all conspiracies!
Tides & The Electromagnetic Energy
of the Sun & Moon
Part 1 of the research into dia-magnetics of water, ocean tides, the electromagnetic energy from the sun and moon and our flat earth
The closest we have had to a debate
with someone who claims to be an intellectual.
Interview with David Weiss and Jim Fetzer.
First hour, David Weiss unleashes compelling circumstantial evidence to skeptic, James Fetzer, in an unbeatable argument supporting the Flat Earth Theory.  This is an absolutely compelling exhibition in a faced paced machine gun delivery style that sets the tone with difficult to refute evidence.  Weiss demonstrates a fraction of flat earth's inexhaustible resources because of time limitations, but uses powerful unquestionable visuals. Weiss shows even the unconvinced internet troll, spooks of government, and the naysayers that the Earth as we have been groomed to believe really may be a non-sphere!
Flat Earth proponent, David Weiss's host was intervened the show producer when the skeptical rhetoric was too much to bear.  This is a rare occurrence in radio which assures the listener that there is wide support and not to be left with a negative impression of the theory.   Congratulations to the Flat Earth movement.
"We don't have time for a meeting of the flat-Earth society.  Sticking your head in the sand might make you feel safer, but it's not going to protect you from the coming storm." – Barack Hussein Obama (what storm?)
T-Shirts & Hoodies
Order Yours Now by Clicking Below
Choose from among the following T-Shirts & Hoodies:
Fallen Rulers (Gaddafi)
International Fake Station | NASA Lies
They Suck!
We live on a Flat Earth
The World Is Flat
NASA Nothing But Lies | International Fake Station
Just Let Me Live My Life
NASA Hoax Imagination in Space